YAHWEH Almighty The Sovereign Master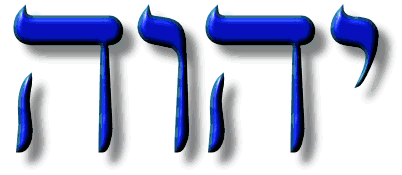 is Kodesh and set-apart and it is above all names. There is no NAME like YAHWEH (YHWH) the Creator of heaven and earth and you. It is an excellent NAME and YAHSHUA came in His ABBA's NAME YAHWEH. Therefore it is precious, valuable and above all a strong tower. YAHWEH is the only Name that saves through YAHSHUA. There is no other name that can save. It is a NAME to be honored above all names and is not to be used or taken in vain or esteemed lightly because he or she will not be held guiltless.
ABBA YAHWEH is seeking fruit from HIS House and at the same time, Satan is seeking whom he may devour. The saints of YAHWEH have hope of yeshua (salvation) only through the cleansing Blood of MESSIYAH YAHSHUA. He that has ear, let him hear what the Ruach haKodesh of YAHWEH is saying unto His assembly. How shall the saints hear without a preacher?
We invite you to search our pages to learn YAHWEH's precious pearls of wisdom through audio or written sermon messages teaching YAHWEH's Word or read and see YAHWEH's Saints dwelling together here at Victory Community.

WE are here to strengthen and encourage you on your way to meet our great King, who shall appear to those that are pressing toward that high calling of our ABBA YAHWEH through Yahshua ha Mashiach. It is a time to get ready, but we need to first go through Yacob's trouble. Only those that patiently endures unto the end shall meet Him.
YAHWEH's Congregation at Victory Community
"Praise ye YAHWEH. I will praise Yahweh with my whole heart, in the assembly of the upright, and in the congregation."

YAHWEH's Congregation dwells together at Victory Community in obedience to the Word of YAHWEH; "And I heard another voice from heaven, saying, Come out of her, MY people, that ye be not partakers of her sins, and that ye receive not of her plagues."  Join us in Shabbat worship of praises, singing and dancing where YAHWEH's TRUTH, HIS Law, and HIS ANOINTING fills our services at YAHWEH's Congregation.
The Assembly Of YAHWEH in YAHSHUA
The Assembly of YAHWEH's people are in every nation and in every tribe. They are not of this world but live in it. They are getting ready to meet their Bride on His soon return.
Having therefore, brethren, boldness to enter into the most Kodesh Place by the blood of YAHSHUA,  By a new and living way, which He has renewed for us, through the veil, that is to say, His flesh;  And having an high kohen (YAHSHUA) over The House Of YAHWEH;  Let us draw near with a true heart in full assurance of faith, having our hearts sprinkled from an evil conscience, and our bodies washed with pure water.  Let us hold fast the profession of our expectation without wavering; for HE is faithful that promised;  And let us consider one another to provoke to love and to good works:  Not forsaking the assembling of ourselves together, as the manner of some is; but exhorting one another: and so much the more, as you see the day approaching. Hebrews 10:19-25
Of Interest and Study Topics
We have many section of study topics that will help to prepare you for the rapidly approaching return of Yahshua. We have updated the section on Babylon which will give you the time we are in and also help keep and flee from the clutches of her tentacles. Give careful, and prayerful attention to the writings of the Book Of Enoch with the Name of YAHWEH restored.  You will also find the Scriptures still been worked on with the Tehillim Psalms complete. There is the Book Of Yasher that has a wealth of information, filling in many details from the beginning to the time of Yahushua son of Nun.
You also see our photo gallery of "Life at Victory"
YAHWEH's Sisterhood In YAHSHUA
We have a new sister site called "Sisters to Sisters" with the same theme. We are currently setting up a more community-centered website with a forum. YAHWEH's Sisterhood In YAHSHUA is run by sisters for sisters and their families.
For all correspondence, donations and offerings, address it to: YAHWEH's Congregation, 717 Miller Road, Jefferson, SC 29718, USA.  Please MAKE ALL CHECKS, MONEY ORDERS ALL FORMS OF PAYMENTS out to  "YAHWEH's Congregation" or use the donate function above.  To Email Pastor Roberts.
PayPal Donations, Tithes and Gifts Problems
If you are experiencing any problems that you are not able to send your donation via PayPal, please open the page in a different web browser IE, FireFox or Opera and not Chrome as the can be a problem. PayPal has recommended this.
The 2016 Sermon Messages Library with MP3 and notes of messages.
List of 2015 sermon messages preached at Yahweh's Congregation by Raah Dawid and Zakane Yarameyah and brothers.
Here is Zakane David Johnson sermon MP3 messages that are preached in the The House Of Israel - The Assembly Of YAHWEH in Baltimore, Maryland.
List of 2014 sermon messages preached at Yahweh's Congregation by Raah Dawid and Zakane Yarameyah and brothers.
List of 2013 sermon messages preached at Yahweh's Congregation by Raah Dawid and Zakane Yarameyah and brothers. Library
List of 2012 sermon messages preached at Yahweh's Congregation.
List of all 2012 MP3 downloads by title and date.
All 2010 MP3 sermon messages collection on one page preached at YAHWEH's Congregation.
2011 sermons with notes of the message preached in the Tabernacle.
All available sermon messages on video.